CE certification is the European Union certification on safety control,to ensure the most basic product safety assurance,that is,only the product does not endanger the safety of humans,animals and goods of the basic safety requirements,rather than the general quality requirements,the coordination directive only specifies the main requirements,the general directive requirements is the standard task.CE certification controls the safety of products,but does not control the quality of products.CE mark is also a safety certification mark.Products with CE mark can enter the European market.
  In the eu market,"CE"mark is a compulsory certification mark.Whether it is products produced by enterprises within the eu or products produced by other countries,in order to circulate freely in the eu market,the"CE"mark must be affixed to show that the products comply with the basic requirements of the eu directive"new methods of technical coordination and standardization".This is a mandatory requirement for products under eu law.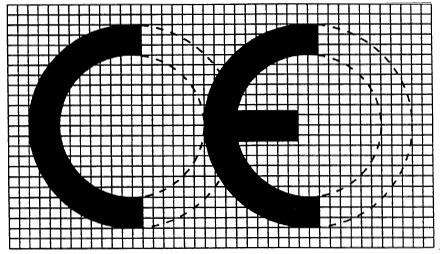 Applicable country of CE certification
  CE certification is available in 32 European special economic zones,including:EU 28,EFTA EU 3/4,Turkey.Products with the CE mark can be freely circulated in the European economic area(EEA).
  Specific EU list for the 28 countries:Belgium,Bulgaria,the Czech republic,Denmark,Germany,Estonia,Ireland,Greece,Spain,France,Croatia,Italy,Cyprus,Hungary,Latvia,Lithuania,Luxembourg,Malta,Netherlands,Austria,Poland,Portugal,Romania,Slovakia,Slovenia,Finland,Sweden,United Kingdom.
  Note 1:EFTA contains four member countries of Switzerland(Iceland,Norway,Switzerland and Liechtenstein),but the CE mark is not mandatory in Switzerland.
  Note 2:due to the colonial era,CE certification is widely accepted worldwide.CE certification may also be accepted in parts of Africa,southeast Asia and central Asia.
  Note 3:as of November 2019,the brexit process is underway,and the subsequent results are pending.
  If you want to know the product scope of CE certification,you must know the NLF regulation of CE certification.NLF stipulates that products within its scope need CE certification.Currently,NLF has a total of 22 directives,which are as follows:
  1.Safety of toys-directive 2009/48/EU
  2.Mobile pressure equipment-directive 2010/35/EU
  3.Limitation of hazardous substances in electrical and electronic equipment-directive 2011/65/EU
  4.Building products-regulation 305/2011(eu)
  5.Pyrotechnic products-directive 2013/29/EU
  6.Recreational and personal watercraft-directive 2013/53/EU
  7.Explosives for civil use-directive 2014/28/EU
  8.Simple pressure vessels-directive 2014/29/EU
  9.Electromagnetic compatibility-directive 2014/30/EU
  10.Non-automatic weighing instrument-directive 2014/31/EU
  11.Measuring instruments-directive 2014/32/EU
  12.Lifts-directive 2014/33/EU
  13.Equipment and protection systems for potentially explosive environments-directive 2014/34/EU
  14.Radio equipment-directive 2014/53/EU
  15.Low voltage-directive 2014/35/EU
  16.Pressure equipment-directive 2014/68/EU
  17.Marine equipment-directive 2014/90/EU
  18.Ropeway installations-regulations(eu)2016/424
  19.Personal protective equipment-regulation 2016/425
  20.Gas appliances-regulation(eu)2016/426
  21.Medical devices-regulation 2017/745
  22.In vitro diagnostic medical equipment,specification(EU)2017/746
  The cost of CE certification
  The cost of CE certification is mainly related to the product and the selected institution.In addition,whether it is urgent or not will also affect the quotation.
  I have said before that the more authoritative and famous the institution is,the more expensive the quotation is.SGS,TUV and ITS quotation may be more than twice as much as that of ordinary institutions.The market determines the price.
  Another aspect of CE certification cost is related to the product itself.For example,common products without RF only need to test EMC and wireless products(bluetooth,WIFI,4G,etc.).Besides EMC,a large number of radio and telecom instructions need to be tested.
  Generally speaking:ordinary low-voltage products,lower charges,starting from 2000 yuan;
  Ordinary high pressure products,charges general,about several thousand yuan;
  Wireless products,higher charges,generally several thousand to tens of thousands of different.
  CE certification processing time
  General products 7-10 working days.
  The wireless product is about 3 weeks.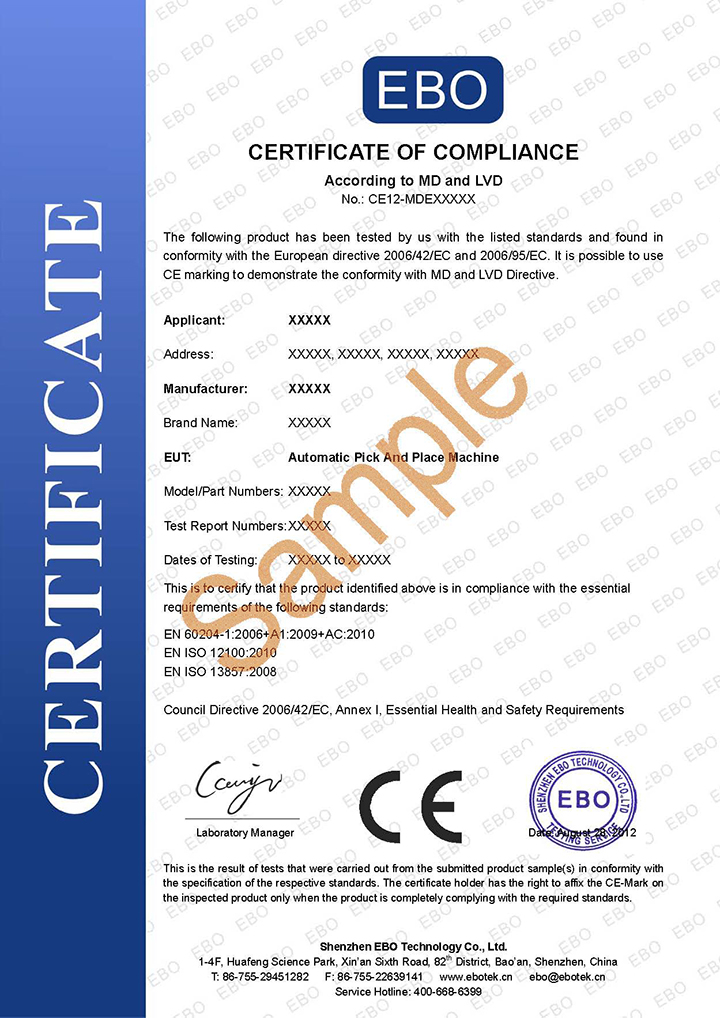 1.Fill in the application form,provide the materials,application form,product instructions and technical documents.
  2.The institution evaluates the CE certification inspection standards and the CE certification inspection items and gives the quotation.
  3.Apply for project confirmation and sample delivery.
  4.The laboratory shall arrange product testing and review and evaluate the completeness of technical documents.
  5.After the product test meets the requirements,provide the application company with the product test report or technical construction document,and issue the CE certificate after passing the test.
  6.Apply for the company to sign the CE guarantee self-declaration,and paste the CE mark on the product.
  Technical documents to be prepared for CE certification
  1.Name and address of the manufacturer(eu authorized representative(eu authorized agent)),name and model of the product,etc.;
  3.Safety design documents(including key structural drawings,i.e.,design drawings that can reflect crawling distance,clearance,number and thickness of insulation layer);
  4.Product technical conditions(or enterprise standards),and establishment of technical data;
  5.Schematic diagram,block diagram and circuit diagram of product electrical appliances;
  6.List of key components or raw materials(please choose products with European certification mark);
  8.Relevant certificates issued by the European Union authorized certification body NB(for other modes other than mode A);
  9.Registration certificate of the product within the European Union(for some products,such as Class I medical device,common IVD in vitro diagnostic medical device);
  10.CE compliance statement(DOC);
  Advantages of CE certification
  European Union's laws,regulations and coordination standards are not only numerous,but also very complex.Therefore,obtaining CE certification through designated institutions of the European Union can help enterprises save time,effort and risk.Manufacturers or distributors who obtain CE certification will gain the following advantages:
  1.Obtaining the CE certification from the designated body of the European Union can gain the trust of consumers and market supervision bodies to the greatest extent.
  2.Can effectively prevent the occurrence of certain"irresponsible accusations".In case of litigation,the CE certification certificate of the designated body of the European Union will become the technical evidence with legal force.
  3.Once punished by eu countries,certification bodies will share risks with enterprises,which to some extent reduces the risks of enterprises.
  Why export to Europe must do CE certification?
  The CE mark covers 80%of the European market in industrial and consumer goods and 70%of eu imports.
  According to eu law,CE certification is compulsory,so it is illegal to export products to the eu without CE certification.
  The possible consequences for France,for example:
  *products cannot pass the customs;
  *detained and confiscated;
  *withdrawal from the market and recall of all in-use products;
  *to pursue criminal responsibility;